Water Pump Installation Instructions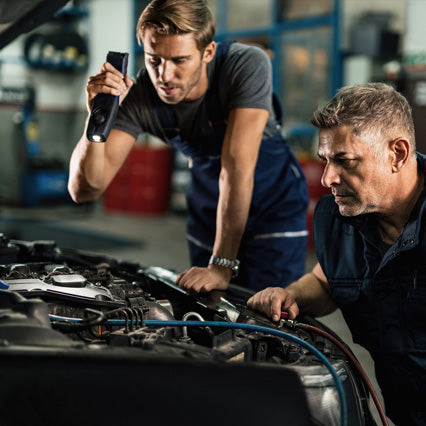 Before installing your new Flowkooler water pump:
1) DO NOT PAINT YOUR PUMP BEFORE CHECKING IT IS CORRECT FOR YOUR APPLICATION.
We cannot accept returns due to fit if they are unsaleable as new pumps.
2) Disconnect battery.
3) Drain coolant. Thoroughly flush and drain the cooling system.
4) Check hoses, clamps, radiator. Examine the hoses, clamps, and the radiator and cap. Repair or replace if necessary.
5) Gain working room. If necessary for working room, remove the radiator, fan shroud, and other components. A few minutes spent analyzing adjacent components and removing those in the way may save you hours of lost labor.
6) Remove belts. Remove all belts that ride on the fan pulley. 7) Remove the fan. Remove the fan and inspect it carefully. Important: A flying fan blade can be deadly! If you detect any evidence of cracks or bends in a fan, replace it. Never try to straighten or repair a fan.
8) Inspect fan clutch. If a fan clutch is present, check it for evidence of fluid leakage. If the fan spins more than five revolutions when turned by hand, the fan clutch mechanism should be replaced. Faulty fan clutches are a major cause of overheating (See Fan Clutch Overview).
How to install your new Flowkooler water pump:
1) Flush cooling system if it shows signs of corrosion. Clean pump impeller cavity and gasket surface. Tighten back plate mounting bolts where applicable.
2) Position new gaskets after coating them on both sides with sealer. Check clearance with open back impeller chamber type pumps before coating gaskets (see instructions in box). Remove backing plate and seal all gaskets.
3) Carefully install new pump. Do not strike shaft! Tighten pump bolts hand-tight, then torque them in a criss-cross pattern to manufacturer's specifications. Note: On some applications, it is necessary to apply a sealant to the mounting bolt threads. If there are traces of old sealant on bolts, or evidence of corrosion of the bolts (from contact with coolant), clean threads and apply sealant.
4) Turn pump shaft by hand. It should move freely.
5) Check thermostat and radiator cap. Replace if they show signs of sticking or leaking.
6) Connect hoses and fill cooling system. Check for leaks. Fill system according to manufacturer's procedures.
7) Check fan blade for cracks, bent blades, loose rivets, etc. Never straighten a bent blade! If any defects are found, replace the entire fan.
8) Check fan clutch (if used) for loss of oil, looseness, or wobble. A bad or misaligned clutch will damage pump. (See Fan Clutch Overview)
9) Check that the fan pulley (or clutch, if used) sits square on the pump hub. Using lock washers, torque bolts evenly to assure wobble-free operation.
10) Rotate fan by hand and check for fan wobble: 3/32" maximum at outer edge (with no fanclutch); 1/4" maximum with fan clutch.
11) Check belts for cracks, frayed edges, missing sections. If in doubt, replace belt(s).
12) Adjust fan belt(s) to proper tension, using commercial tension gauge, if available. Or lay straight edge between alternator and pump pulley and adjust belt deflection to1/2"to 3/4". (See vehicle manufacturer's specifications for recommended tension.)
13) Check fan clearances at blade tip, between fan and shroud, and fan and radiator.
14) Check motor mounts for wear or splitting. Check bolt tightness, cracked or damaged rubber in mounts. A broken motor mount will let the engine "rise up" under load, causing the fan blades to contact the shroud, hoses, etc.; this results in damage to all, including the water pump.
15) Start engine andrun until normal operating temperature is reached. Check for leaks and for smooth operation. Never stand in line with or near fan when revving engine! For your own protection, the hood should be closed when revving engine.
Note: Many things can cause water pump failure, including defective, crooked, or unbalanced fans; defective or unbalanced fan clutches; excessive (too tight) fan belt tension; dirty cooling systems; insufficient clearance between fan and shroud or radiator; loose or broken motor mounts. Check everything when you have the chance; help avoid future water pump failures. This product intended only for use as originally specified by the OEM manufacturer and/or the catalog.
Caution: The addition of more water than recommended will raise the freezing protection temperature and weaken the corrosion inhibitors. Refer to specifications for the cooling system capacity for all vehicles.
Note: The system must be maintained with the correct concentration and type of antifreeze to prevent corrosion damage. The coolant normally contains a 50/50 mix of water and permanent coolant.